Do Allbirds Wool Runners live up to the hype? And are they a suitable travel shoe? We put these wool shoes to the test to see if you should buy a pair.
Allbirds shoes came back in 2016 when a friend from New Zealand showed it to me. She claimed these shoes (which were made from New Zealand merino wool) were super comfortable — they certainly looked comfortable. Then a few months later we started seeing them all over New York City so we decided to check them out for ourselves since they looked like a great shoe for travel.
Allbirds are made for men and women who are looking for comfortable shoes without the wasteful plastics and cottons that the average shoe brands use. All of the shoes from this brand are meant to be worn with streetwear and are great for every day and travel.
I've been wearing my Allbirds Wool Runners for about 12 months and I have had a good amount of time pounding the pavement with these shoes so it is necessary for me to do our own Allbirds Review.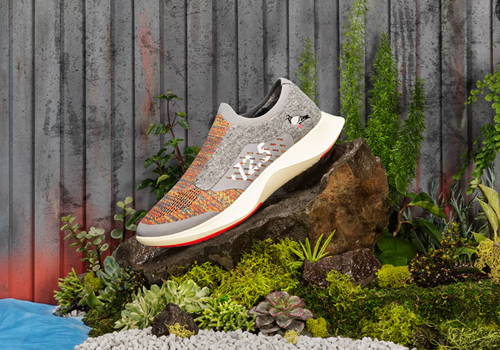 For a bit of background, Allbirds is a new shoe company from New Zealand (a country famous for its wool) that made their debut with their Wool Runners — a pair of shoes made from merino wool and other sustainable/recycled materials.
They went the direct-to-consumer route (although they do have a few physical locations now) and all their shoes sell for $95 via the Allbirds Website (free shipping and returns). People seem to really dig them and their popularity is skyrocketing.
Allbirds also has a model called "Tree Runners" (which are made out of eucalyptus pulp instead of wool).
We also like how Allbirds put a big focus on sustainability — their soles are made from sugarcane and their laces are made from 100% post-consumer recycled polyester.
I'm always raving out wool when it comes to travel clothing but I've never thought about wool for shoes. So, when I saw the Wool Runners we were intrigued — especially since Allbirds claims their wool is soft, moisture-wicking, and reduces odor.
And as you can see from the chart above, Allbirds makes a lot of claims about their shoes so we wanted to test them for ourselves.
I actually ordered my Allbirds shoes online but I still headed to their NYC location on SoHo to check it out.
I'm really digging the look of the Wool Runners. They're a nice blend of fashion, athletic, and casual. And they're opening a store in Europe so I'm sure you'll start seeing them all around Europe very soon.
I chose the Natural Black with Black Sole. They also have an ever-changing selection of limited-edition colors. If I were to do it all over again, I probably wouldn't get the all black as I think having some contrast between the sole and the upper part of the shoe would be nice — but that's just personal preference.
I also like how there isn't any real branding on the shoes so it keeps with the minimalist look.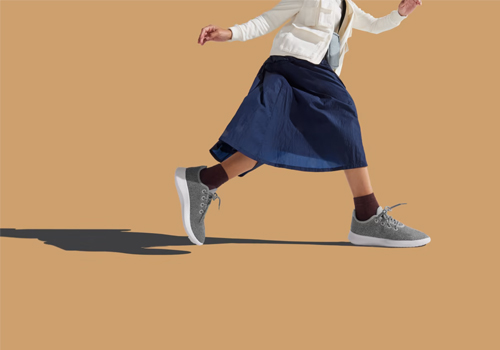 After a few months of wearing my Wool Runners around the streets of NYC, I still find my Wool Runners to be perfectly comfortable. The soles have a lot of cushion and bounce. The insoles + sole actually offers a decent amount of arch support — which is fairly rare in other minimalist shoes. 
That said, Allbirds Runners aren't running shoes — even though they're called "Runners". They're firmly casual walking shoes. Additionally, the wool is plenty soft so Allbirds isn't exaggerating when they say you can wear these without socks.
I've worn my pair for multiple walks (usually one to three miles at a time) without any issues but a majority of the time I've worn them around the neighbourhood/city and on walks with Henry. That said, I regularly walk for 10+ miles/day when I travel so I'm not sure how my feet would feel if I put in that kind of millage with these shoes.
So, to sum it up, I think the Wool Runners have an excellent weight/size to comfort ratio — they're so light that you can easily throw them into your luggage without adding any bulk.
So, are they the "World's Most Comfortable Shoes"? That might be a bit of an overstatement. But they're certainly comfortable and I enjoy wearing them — especially considering how crazy light they are.
Allbirds Wool Runners are naturally soft, made from the finest merino wool. Available for both men and women, these runners are guaranteed to fit your every move without sacrificing style. Available in 17 different colors, ranging from black to a beautiful lavender and pastel blue, the Allbirds Wool Runners are perfect for casual streetwear or even those more active days. The merino wool fabric makes these runners odor resistant while you exercise, and as they absorb moisture, your feet won't feel damp. How
ever, The Allbirds Tree Runners are available for both men and women, retailing at $95 a pair. Made from eco-friendly eucalyptus tree fibers, the Tree Runners are naturally breathable and sure to be cool and light on your feet. A flexible foam sole conforms to your foot's every move.
Allbirds' insoles are made of castor bean oil, which both cuts carbon output and makes for a supremely soft shoe. The Allbirds Tree Runners do not come in half sizes. The Allbirds Tree Runners come in 15 different colors for men. As for Allbirds Women's Tree Runners, they come in 11 colors.
Allbirds aren't made for rainy weather so your feet will get wet fairly quickly if you get caught in the rain.
Washing Allbirds shoes is a bit different than your regular sneakers. Since Allbirds' shoes are made from wool and tree fibers, they cannot simply be thrown into the washing machine.
Here are the simple steps to washing your Allbirds shoes:
Remove the insoles and laces; these should be gently washed by hand
Place your shoes in a mesh laundry bag and wash in cold water, on the gentle cycle and using a gentle detergent
Let your shoes air dry
After spending a solid amount of time wearing Allbirds Wool Runners we can see why Allbirds has become so popular (they're now valued as a billion-dollar brand). They're cool-looking, comfortable, have pretty good durability, and they're made using sustainable manufacturing processes. We also like their simple return process and their 30-day guarantee.
They're great shoes for wearing around the neighbourhood, running errands, and urban exploration. I wouldn't hesitate to throw these into my suitcase before our next trip because they're lightweight and take virtually no space.
If you are planning to travel soon, check out Allbirds travel shoes for more recommendations.
Price: $95
See on com
Available in Men's and Women's